Post by queenfanatic on Oct 23, 2020 2:19:51 GMT
DISCLAIMER: These dates are presumed and sourced from
detective
work based off the
following
supporting evidence! These are not verified, and these situations could have been done on another date for all I know, and I am looking for someone to help me verify these, so don't write me angry messages!!
These dates are mostly in the 1970s, as I'm currently working on a project that is unfinished (you'll hear about it at the bottom on this post). The preliminary timelines for the 1980s and 1990s have been done, but more research is needed.
DATE 1:
Thursday, August 2nd, 1973:
Queen enter Trident Studios to start recording Queen II.

Supporting Evidence:
Queen had left for Newcastle to perform on Friday the 3rd of August, which would have been a 5-hour drive for them from London. They may have gotten back and started work on Saturday the 4th. However, Peter Hince has stated in his book that Queen's weekly recording schedule may not have been directly on the start of a weekday (Monday), but no sessions would be on the weekends. Even if Hince hadn't joined Queen at that point, it may have applied on some occasions. So, if that is the case, then Wednesday the 1st, or Thursday the 2nd would seem like the most reasonable date, as on Monday the 6th, they had started take 12 of SSOR. Along with that, an excerpt from Is This The Real Life? book states for the NOTW sessions that Queen were scheduled to record on Wednesday (Wednesday the 6th or 13th of July 1977), if that also applies to the Queen II sessions, then Wednesday the 1st may be reasonable, but Freddie actually had a photoshoot on that date, so I decided last minute to change the presumed date to Thursday.
Faltering Evidence:
For the weekend evidence, a tape box was created for Sheer Heart Attack on Sunday the 28th of July (1974), so at this point, Queen may have worked on the weekends and not had a solid weekly schedule planned out. For the Wednesday evidence, this may have been just a 1 out of 7 chance that this is true. Wednesday the 1st may be reasonable, but Freddie actually had a photoshoot on that date, so I decided last minute to change the presumed date to Thursday, which is still a 1 out of 7 odds.
DATE 2:
Wednesday, August 15th, 1973: Work continues at Trident Studios

Supporting Evidence:
The only supporting evidence I actually have for this is based off of a record mirror article dated on Saturday the 11th. The article states "In the meantime they go into the studios to record their all important second album on August 15th, and like Roger says: "as long as our egos don't get out of control it will be alright." The only outcome I could possibly suggest is a short break from after they filmed the Thursday the 9th "Keep Yourself Alive / Liar" promos to Wednesday the 15th. The band may have done an interview at the publicist's apartment on Friday the 10th, or they might have done it amidst the rehearsing period at Haverstock Hill at some point after July 25th.
Faltering Evidence:
Not too much doubting evidence, except for the idea of having a break in the middle of recording sessions. I can understand if things get a bit hectic and everyone needs a few days off, and along with that, the abundance of vacations during the Miracle sessions definitely shows that it could be a reasonable scenario.
DATE 3:
Monday, September 3rd, 1973: An incomplete mix of Father To Son is done at Trident Studios today.
Supporting Evidence:
The possible date written on the reel.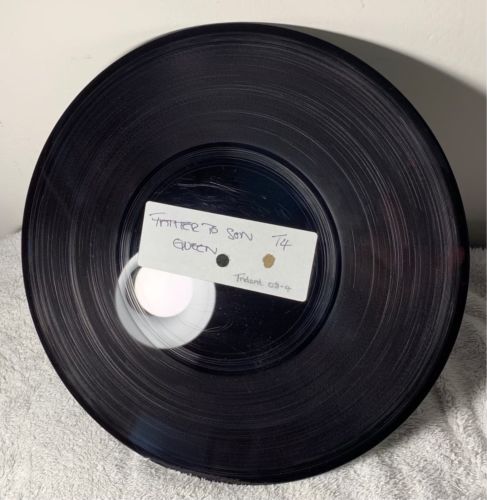 Faltering Evidence:
This could be easily debunked for two reasons.
1. It's a fake
2. The "Trident 03 - 9" is just a time code.
So I wouldn't say this is reliable evidence, but you never know.
DATE 4:
~ Wednesday, December 12th - Saturday, December 22nd, 1973: Rough mixes of The Loser In The End, Ogre Battle, and The Fairy Feller's Master-stroke are played on this date to Martin Hayman.
Supporting Evidence:
The quote: "I went to Trident Studios on a rainy night before Christmas to find the band hard at work trying to complete their second album before the inevitable cutbacks in production at EMI slowed up their progress ... I talked to John and Roger in Trident`s re-mix room as they played through such rough mixes as they had finished. The sound was still a bit raw and ragged, but there was no mistaking the originality of the songs and the thrusting energy of the playing, the kind of buzz you only get from a new band whose creativity has not yet peaked. First song up was "The Fairy Feller's Masterstroke", so titled after a painting by the Victorian Richard Dadd (it hangs in the Tate Gallery). "Freddie just wrote a song using all the characters in the painting – it`s fairly incomprehensible," commented Roger. Next up were "Loser In The End" and the atmospheric "Ogre Battle", with bumping and grinding effects. Freddie (the one with the Bugs Bunny mush and the wigwam of dark hair) is the principal writer, followed closely by Brian, although Roger occasionally turns in a song...."
Since I saw the "rainy night before Xmas" quote, I took a look at the USAF Surface Hourly Weather Observations in London and narrowed it down to these dates.
Wednesday the 12th - Periods of rain from 3:20pm - 11:50pm.
Thursday the 13th - Intermittent showers all day.
Tuesday the 18th - Rain from 9:20pm - 10:20pm.
Wednesday the 19th - Rain from 7:20pm - 11:50pm.
Thursday the 20th - Intermittent showers all day.
Friday the 21st - Intermittent showers all day.
Saturday the 22nd: Thunderstorm from 6:30pm - 7:20pm, with intermittent showers for the rest of the day.
I hope I can get a rough date soon.
Faltering Evidence:
The amount of rain and lack of sufficient studio evidence that lacks an ability to get a final date.
More about the upcoming Queen project:
"We have been tirelessly working on this and other pressures and have never found time to introduce ourselves and the page, so shall we do that?
What is our aim with this project?
After months, literal months of collecting up interviews, analysis', studio documentation, just about anything you can think of to do with everything about Queen, we aim to create an ambitious docu-series chronologically going through Queen's history, from their early days before the band to the present, not missing a detail (hopefully).
Who are we?
There are two people in charge of this project and page, Jaxon and Sheamus. Between us we have certain areas of expertise in the Queen encyclopedia and together are using our efforts to script this piece of entertaining and informative content for all! A more in depth introduction will come later, promise, but for now those are us!
Where are we now?
Currently we have a rough draft of episode one that needs formatting and a vast amount more of editing done until it is anywhere near complete but it is something! Apart from that we have many documents about a wide range of things from Studio Timelines to an anthology of articles from across the globe, and anuthing you can think of in between."
- Queenthology, September 27th.
Some rough dates I hope to get down on in the future:
- Queen II rehearsal period
- November tour rehearsal period
- Queen II Recording Period
- Queen II Mixing Period (1974)
Additional help on this would be greatly appreciated! - Jaxon.